Class time and location
Wednesdays, 7:15-8:45 pm. at Triangle Dance Studio, centrally located in RTP: 2603 S. Miami Blvd, Durham.  Please note – prospective students should request a free intro class before attending the weekly class. You may request an intro class here.
What you can expect in class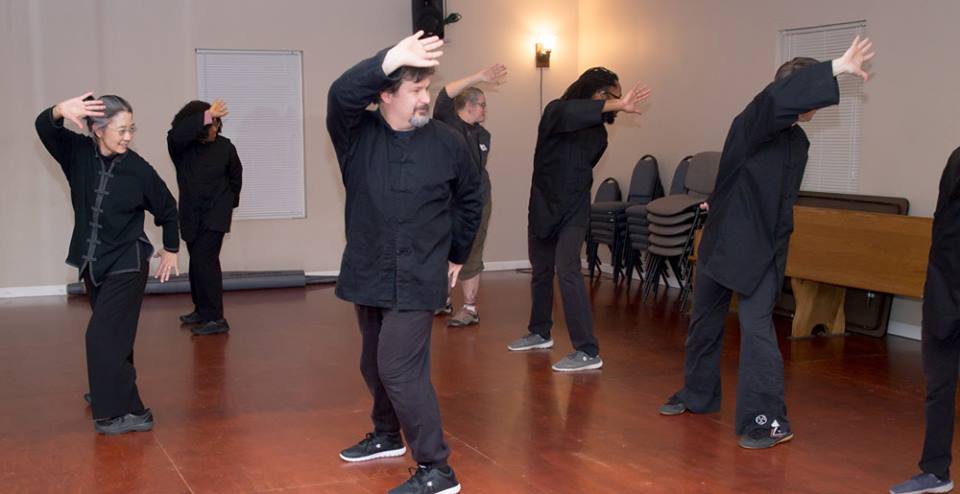 When you come to class, you'll find students of Nine Dragon Baguazhang to be friendly, respectful and helpful of each other. When we work with a partner, the goal is to help each other improve in a non-competitive and non-threatening manner – often in a partner game format.
During class, we will incorporate a variety of useful training methods: Quiet Sitting (a precursor to seated meditation), Daoyin warm ups (moving Chinese Yoga), Post Standing and Baguazhang's signature practice, Circle Walking, just to name a few. These are presented in a simple, systematic, layer-by-layer method over time – each exercise explained as to how we do it and why.
Free Intro Class
When requested, we offer a free into class to help prospective students see what Nine Dragon Baguazhang is and learn what they can expect by studying this unique and rewarding art. We will meet at 6:45 on class night to have an informal discussion about the art before the other students join us at 7:15. Then, you'll get to participate in… You may request an intro class via our contact page.
Seminars
– link to last year's seminar page as example?
– get on our mailing list for future events!